Mary E  Richmond International  Conference 2022
Mary E Richmond International Conference was organized on 8th and 11th  November 2022 in association with Johannesburg University South Africa, INPSWA, KAPS. Mary Richmond series is an academic initiative of dept. of Social Work BCM College, Kottayam (India) since 2018. It is an excellent platform for students, scholars and professionals to present their distinctive interventions/practice in various fields and also present the field work experiences/ findings of dissertations. Theme for the 5th edition of Mary E Richmond Conference was Indigenous Practice in Social Work: Global South Perspective. Conference was inaugurated by Prof.Dr.Varoshini Nadesan senior lecturer University of Johannesburg, South Africa.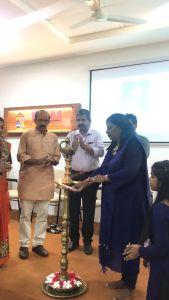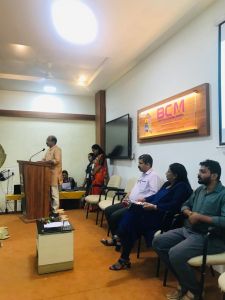 In an effort to raise awareness for human trafficking department of Social Work, B.C.M college organized a freedom walk.Freedom Walk is an outward expression of our inward desire to see human trafficking completely abolished. College principal Dr Stephy Thomas flaged off the walk. Professional Social Workers Adv.Sr Reji Augustine, Childline Coordinator Mr. Justin Michael, HoD Dr.Ipe Varughese addressed the walk at District hospital Kottayam. Dr. Sr. Nichol and Sr. Sheena MU, Mr.Nandakishor P S  accompanied the walk with trainee social workers.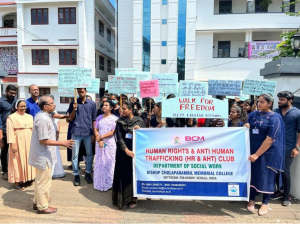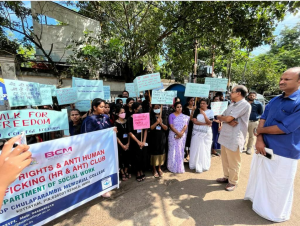 Department of Social Work, BCM College Kottayam  Conducted and an Interactive session CHEER QUEER with Sheetalshyam , Trangender Activist and Artist in Association with Catalyst Group, Kottayam as part of celebrating Pride Month.   (LGBT Pride Month) is celebrated annually in June to honor the 1969 Stonewall riots, and works to achieve equal justice and equal opportunity for lesbian, gay, bisexual, transgender, and questioning (LGBTQ) Americans.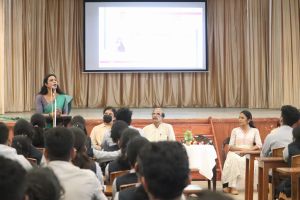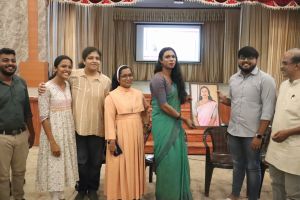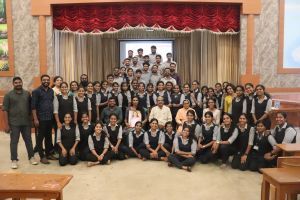 As part of 'Azadi ka Amrit Mahotsav', Students Darbar was conducted on the topic ''Freedom with boundaries in Indian context'' on 22 August 2022 at BCM College auditorium on 12.45pm. Students Darbar is a platform for free sharing of thoughts, perspectives and feelings. Students from different departments participated in the programme.
Safalam Sayahnnam – 2022

Saphalam Sayahnnam is on of the prestigious events of the social work department at BCM College Kottayam,and it has been held for the past 13 years since 2009. The event aims to give elderly population  a very auspicious  day in which they can interact with  the younger generation and spend time with each other. Smile India Pakal Veedu and Department of Social Work jointly organises Safalam Sayahnam since 2009.  Honourable Metropolitan Geevarghese Mar Pacomios inaugurated the event. Prof. Dr. Raju D Krishnapuram also took a sesssion for the elderly.

 
Orientation Programme for New Batch(2020-2021)
28/12/2020 – Introduction about the course by Dr. Ipe Varughese (HOD)
29/12/2020 – Subject orientation by all faculty
30/12/2020 – Study and Discussion on Govt. Service agency near the locality by all faculty
01/01/2021 – Study and Discussion on Govt. Health Programme by all faculty
04/01/2021 – Discussion on Agriculture Bill 2020 by all faculty
11/01/2021 – Community Cafe on social problems of elderly, PWD and Transgenders by Ms. Gayathri Das (Faculty)
15/01/2021 – Welcome ceremony for freshers by Dr. Ipe Varughese (HPD
22/01/2021 – Organisation Visit to KSSS by first year students and faculty Mr. Jaison M C (Faculty)
25/01/2021 – Orientation of Department of social work by Dr. Ipe Varughese (HOD)
25/01/2021 – Orientation on Childline by Mr. Justin Micheal (District Coordinator, Childline, Kottayam
USHUS (Induction Ceremony) – 05/01/2021
Dr. Ipe Varughese, Head of  Social Work dept., welcomed the gathering. He started with the quote of Mahathma Gandhi " Be the change you want to see". He also emphasized on role of parents in molding up social workers of tomorrow. Dr. Teena Annah Thomas, Principal of BCM College Kottayam delivered the presidential address. She talked about the way her knowledge which was limited to child protection was broadened by the exposure to the programme of Department of Social Work BCM College.She congratulated parents and newly admitted students for making the right choice by selecting Social Work. Mr. Domi John, District mass media officer inaugurated the function and delivered inaugural address. He focused on 'social work as a profession'and emphasized how skills,attitude and knowledge together is trained during the course.
Dr. Teena Annah Thomas, Principal of BCM College initiated the limp lighting ceremony and passed the light to the first year students. The lighted lamps together lit up USHUS 2021.
Seminar on -' child protection – in the context of child marriage prohibition act' 27 Jan 2021
All the students participated in the subject seminar on 27 Jan 2021 organized by District Child Protection Office (Dept. of Women and Child Development). Mrs. Mallika DCPU shared welcome address, Ms. Tintu (Protection Officer ) gave introduction and Dr.Ipe Varughese  inaugurated the programme. Adv.Lakmipriya took the session.
Transaction Analysis for self change
BCM Social Work Department organized two days  Transaction Analysis session on 'Self Awareness for Life Changing' on 7-8 Jan 2021. Mr. Sabu Yohannan was the resource person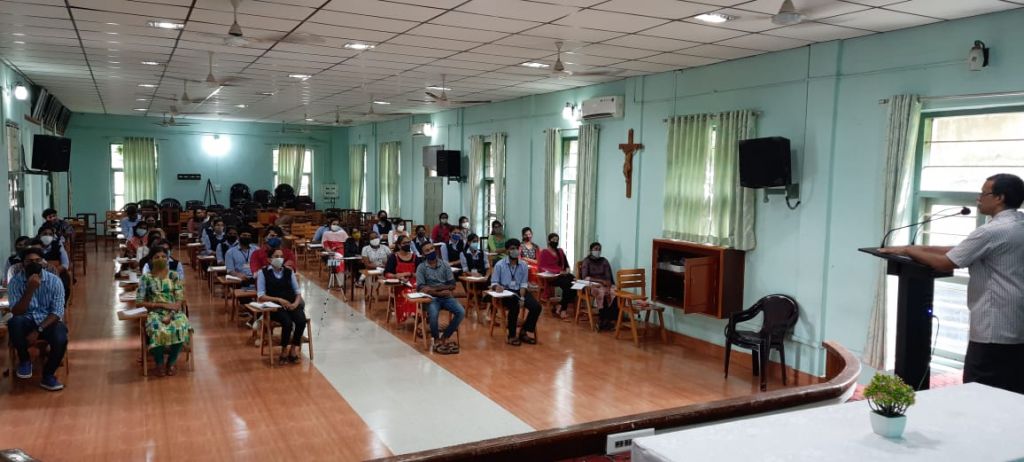 National webinar on – Right to Menatl Helath, New Normal
National webinar on the topic  "Right to Health in New Normal" was conducted on 6 Januvary 2021 in BCM College Kottayam. Webinar was organized through online platform Zoom. After that welcome speech delivered by Fr. PS Lenin Antony SJ, Director of AADI. The program was Inaugurated by Dr. Ipe Varghese, Head of the Department of Social Work in BCM college. This session was led by Dr. Elizabeth Shiny, Clinical Psychologist, Evergreen Center for Ayurvedha Kozhikodu. Ms. Elizebeth Shiny emphasized the systematically applying the right to health to public health policies when addressing the Covid 19 Pandemic.
The orientation session for the 19th MSW batch was Conducted on 25 June 2021. The session was led by Dr. Ipe Varughese Head, Department of social work BCM college. Dr Ipe explained about the history of social work in BCM college and also talked about the academic curriculum of Masters in Social Work. The session ended by 11 am.  TSW Ms. Agneya Vaman Thiruvadi delivered the vote of thanks.