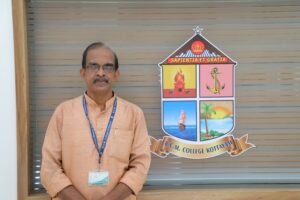 Dear Friends
We, the Social Workers belong the noble profession working with individuals, family and communities towards strengthening them. At BCM, we provide individual attention to all social work trainees for developing their skill, knowledge and attitude required for becoming an effective professional social worker. Our society needs more committed and skillful social workers. Our academic activities, field work programs, programs of students association, regular conferences, students meets, lecture series, tie- up with other national and international institutions, frequents visits of experts, good net work with GOs and NGOs, active involvement in the professional associations, special programme for children and elderly extension activities, various publications, extension and outreach programs etc. do help us a lot to grow in our profession. Let us move ahead, develop ourselves and contribute to the growth of our profession; take the name of BCM College to new heights. We welcome all well wishers of society to join hands with us to rebuild a society that is just for all with special emphasis on creating a protective environment for our children.
Dr. Ipe Varughese
Department of Social Work
            The department since its inception in 2002 has been functioning with an objective of providing Professional Social Work education to graduates who have a flair for the profession.
The Department offers two-year full – time postgraduate programme in Social Work (MSW) which is affiliated to Mahatma Gandhi University, Kerala. The students can choose Rural & Urban Community Development, Medical & Psychiatric Social Work or Family & Child Welfare as elective courses.
 Motto of the Department
The motto of the department is `Yearn to Learn and Nurture`
The motto inspires our students to always strive and thirst for knowledge and wisdom, so that they may be moulded into mature, gracious and self-less citizens who continually seek to nurture, care for and develop the society they live in.
Our Vision
To be a leader in responding to social concerns and empowering people by instilling skill and value based knowledge to those inspired to commit themselves to the society.
Our Mission
     To provide quality education in professional social work and to take initiative to intervene and facilitate development in society through practice and research consistent with the philosophy and values of the profession of Social Work and strives for the growth of Social work profession in our country.
Purpose of Social Work Education
     The purpose of Social Work Education is to prepare competent and effective Social Work professionals who are committed to the art of doing different things for and with different individuals/groups/communities by working together to achieve their own and society`s betterment. Hence the students are taught to focus on education based upon a specific body of knowledge, values and professional skills enabling them to be productive and sensitive citizens. The students should also involve in contribution to the growth of profession during the study and continue the same after becoming a professional.
Objectives
In order to accomplish the mission of the MSW programme at BCM College, the SW department is committed to pursue the following objectives:
Quality education for the masters level practitioners and researchers in social work who will provide services to all the people in need.
Improve student's knowledge and understanding of human needs and social problems.
Extend social work knowledge and expertise in service to the global community.
Increase opportunities for professional social work education among the underrepresented groups and minorities.
Facilitate dynamic interaction among social workers, social service organizations and other professionals in the field.
Contribute to the development of knowledge in social work practice, social policy and will undertake research initiatives relevant to important policy and practice issues.
Provide an enriched preparation for the students to be world-class professionals in the field of social work.
Develop socially conscious and responsible citizens who have an intelligent grasp of social issues and social delivery systems.
Contribute to the development of Social work as a profession in India.
COURSE SCHEME
The scheme for MSW from the Academic year 2019-2020 onwards will henceforth be under the Mahatma Gandhi University Regulations (2019) governing Post Graduate Programmes under the Credit Semester System (MGU-CSS-PG).
Duration of Programme
The duration of the MSW shall be of 4 semesters.  Each semester consisting of a minimum of 90 working days, inclusive of examination, distributed over a minimum of 18 weeks of 5 working days each.
Admission Requirements
Candidates for admission to the first semester of the MSW programme through CSS shall be required to have passed any appropriate  Degree recognized/ approved/accepted by academic council of  by Mahatma Gandhi University.
The candidate has to register all the courses prescribed for the particular semester.
Cancellation of registration is applicable only when the request is made within two weeks from the time of admission.
Programme Structure
The MSW programme shall include
Programme Core course – Courses that an MSW student must successfully complete to receive the Degree.
Program Elective (PE) Courses – There shall be 3 Elective courses for the MSW programme – Community Development (CD), Family and Child Welfare (FC), Medical & Psychiatric Social Work (MP), for the choice of students, subject to the availability of facility and infrastructure in the institution. The selected elective courses shall be the subject of specialization of the MSW programme. The elective course selected by a student at the beginning of the third semester will continue for the fourth semester.  Choice of courses from other electives is not permitted.
Field Work – Field practicum is compulsory for all the 4 semesters, each semester field work is for 6 credits (216 hours).
Students are expected to submit regular periodical reports of the activities undertaken, dissertations and evaluation during fieldwork to their respective staff supervisors. Based on the report, discussions with students and interaction with agency staff by the concerned faculty supervisor, the students are guided and necessary suggestions are made through periodic fieldwork conferences.
The students are expected to meet with their faculty supervisors for fieldwork conference at regular intervals.
The objective of fieldwork recording besides enabling effective supervision is to provide an opportunity to the students to organize and present information, observation, reflections and actions in a systematic manner. Field work conferences between students and faculty supervisor facilitates student performance evaluation and gives an opportunity to students for clarification and discussion regarding application of theory to practice and to eventually fine tune their skills in Social work intervention.
Programme Project – Programme Project means a regular project work with stated credits on which the student undergo a project under the supervision of a teacher in order to submit a dissertation on the project work as specified.
There should be an internal assessment and external assessment for the project work. The external evaluation of the Project work is followed by presentation of work including dissertation and Viva-Voce. The title and the credit with grade awarded for the program project should be entered in the grade card issued by the university.
Comprehensive Viva-voce shall be conducted at the end semester of the program. Comprehensive Viva-Voce covers questions from all courses in the programme.
 DISTINCTIVE FEATURES OF THE DEPARTMENT
Besides academics, due importance is given to co-curricular and extra-curricular activities. A holistic and all round development of the student are aspired for.  To attain this vital objective the department strives to provide students with due opportunities to develop their talents and potentials and bloom into well-balanced and mature individuals and professionals.
Exposure Visits (TIDES)
Visits are arranged in all semesters with the objective of giving the students an exposure to organizations in various settings and fields of social work practice. This enables the students to interact with professionals in the fields of social work and to gain a firsthand understanding of the various possibilities, challenges and difficulties encountered in the profession.
Social Sensitization Camp (Rural Camp)
The Department organizes an annual seven days Social Sensitization Camp appropriately titled 'Spandanam' which seeks to feel "the pulse" of the people in a rural community and sensitize students to ground realities faced by people living in villages.
The rural camps are unique in nature as they are primarily organized by the students under the guidance and supervision of the faculty members. This sharpens their management and leadership skills. Students learn to identify felt needs of the community and organize appropriate need based programmes.
Gandhiji's concept of 'Nai Talim' is the inspiration to infuse education through work and promote a blending of body, mind & soul. Incorporating the participation of the community, students involve themselves in undertaking & implementing the need based community development programme.
The camp provides ample opportunities for students to fine tune their interpersonal relationship skills through the process of group dynamics. This sets in by way of working hand in hand with each other to achieve a harmonious blend of learning, work and entertainment.
The Rural camp promotes the holistic development of the students and simultaneously contributes to the sustainable development in the community.
SSWADIN – Student Social Work Association for Development Initiatives
In an attempt at skill training and capacity building, the Department has created a 'Social Work Students' Association for Development Initiatives; SSWADIN.   This is an association of Social Work Students of the Department. The association was formed with the objective of giving its members an opportunity to improve and enhance their professional skills and groom their personalities so that they may develop into true professionals.
The association aims at providing co-curricular opportunities of self growth, honing of professional Social Work skills whereby students respond to various issues of social concern alongside gaining an understanding and exposure on numerous relevant social facets. The whole exercise is primarily self-funded with guidance and support of a faculty in charge.
With the aim of attaining its objectives, the association conducts and arranges various student development activities including seminars, street plays, awareness classes and interactions with various resource persons and Social Work students from other Universities. Important days such as World AIDS Day, World Alzheimer's Day, Human Rights Day, and Women's Day etc. are observed. Various programmes are conducted both inside and outside the college (in the community) on these days. It has also undertaken a research project for the Social Welfare Department and has involved itself in various other relevant studies.
The Students Development Activity is an important component under the students' association. It is the weekly exercise aimed at learning, training & growing through interaction and hands on experience with experts from various relevant Social Work & allied fields.
BCM Social Work Alumni (BSWAS)
BSWAS (ACM Social Work Association of Seniors) functioning well in the department with regular meetings.
Live Labs
BCM OJASS: Out reach Joint action to strengthen society. BCM College initiatve to undertake extension activities and welfare programmes.
          Child Line 1098
It is the project of Ministry of Women and Child development for helping the children in distress. BCM OJASS is functioning as the District Nodal Agency of Kottayam District it has started functioning in the year 2011
         Child Rights and Resource Centre
 Child Rights and Resource centre is functioning in the department. This centre undertakes different activities for the protection of rights of children and disseminate the message of child protection. The centre works in close association with Child line, DCPU etc. The centre also conducts a course on Child rights and protection systems
           HR-AHT Club
Human Rights & Anti Human Trafficking Club is functioning in the department since 2020. The club is functioning in association with HR AHT wing of KAPS. The club implements many programmes related to Human Rights.
            Prachodana Wellness centre
Prachodana wellness centre started functioning in the department for understanding wellness programmes with more concentration on Prachodana. The centre also is affiliated to 'Prachodana Wellness Centre of KAPS'
 Samanwaya – Conference Series
Literally and figuratively signifies "a blending of all'. It's a National Level conference/ workshops with variety of programmes organized regularly since 2003 in which Social Work professional and BSW/MSW trainees from colleges across the country and abroad take part. The aim is to facilitate a better understanding of relevant, contemporary views, which has a stimulating, thought-provoking impact on all participants. Since 2008, the programme has been organized on the main theme of 'Child Protection'.
Samanwaya SW Students Meet
Samanwaya provide a plat form for social work students to present their talents on various areas. This also provide a platform for students from different institutions to work in a team thus enhancing cooperation between social work institutions. An ever-rolling trophy is presented to the winning team.
Samanwaya Sandya (Cultural Infotainment Programme involving children from special schools)
It is a theme based cultural extravaganza as a fitting finale of Samanwaya. This cultural theme based infotainment programme has been presented by involving children from different special schools and child centred organizations in and around Kottayam. Since 2008, Samanwaya is concentrating more on the theme Child protection. Different aspects of child rights and child protection has been covered through Samanwaya.
Publications
          Educere- the bi-annual journal
Department of Social Work publishes a biannual journal 'Educere' (ISSN No. 2249 – 1090) (since 2005), Like its Latin root, 'educere' "to bring out" on paper relevant articles by students and national and internationally practicing professionals and academicians in the fields of contemporary social issues. This bi-annual journal includes features on socially relevant and stimulating themes.
          "Dec-10- the Human rights Day": a special manuscript published on Human Rights day
Every year on December 10, 'Human rights day' is observed with various activities and releasing a publication with different articles related to human rights named "December – 10" (since 2009).
           Chipko- Nature
This is a manuscript published online since 2021 during environment day. The manuscript is an initiative for spreading messages related to environment protection.
           Other IEC Materials: Different IEC materials are prepared by the department from time to time based on different issues. This includes short films, audio materials and printed materials
 Career and Placement Cell
To address the career concerns of the outgoing students, the department operates a placement cell co-ordinate by a faculty member, in order to facilitate suitable job placements for students who have completed their training. The cell also initiaites different training programmes to help the students to attain job. This includes training for preparing CV, Facing interview, group discussion etc.
Mentoring Programme
To strike the right balance between professional and personal self, it is imperative to address and resolve issues, which could otherwise impede the development of students into 'effective professionals'. To achieve this, the department has initiated a 'Mentoring Programming' wherein students can approach a faculty member of their choice for guidance and support in resolving issues and to maximize their potential.
Membership in Professional Associations
All the faculty members professional association -Kerala Association of Professional Social Workers (KAPS) and actively associating with it. All the students are members in the student forum of KAPS (All Kerala Social Work Students Association).
The department also is an institutional member in KAPS.
ASSK
The department has been registered as a member of the International Association of Schools of Social Work. It is also a registered member of Association of Schools of Social Work Kerala in August '08.
ICSW
Kottayam district chapter of Indian Council for Social Welfare (ICSW) is functioning in the Social Work department.
KAPS
Kerala Association of Professional Social Workers (KAPS) has been formed on 09 Dec 2012 during the meeting of Social Work representatives from all parts of Kerala held at BCM College Kottayam. KAPS was initiated by ASSK. The department closely associate with all activities of KAPS. KAPS is affiliated to IFSW (International Federation of Social Workers) through INPSWA ( India Network of Professional Social Workers Associations). All the faculty members are members of KAPS. All the students while joining MSW programme become a student member of KAPS and become a life member while successfully passing out from the course. Dept. of SW is serving as the registered office of KAPS.
News Bulletin-Upakrama
The department publishes a newsletter (Upakrama) quarterly. This initiative of SSWADIN covers all the curricular and co-curricular activities undertaken by the department.
Field Action Project
The department has initiated a Field Action Project as a key extension activity wherein the department has reached out to select schools in Kottayam municipality to sensitize parents, teachers on Prevention & Intervention of Child Sexual Abuse (CSA). The students are to receive special safety education sessions as part of the project. Documented feedback is available proving the benefits of such sessions among parents & teachers.
The project was initiated in July 2006 wherein teachers & parent representatives from schools were involved in formulating the methodology of this project as participation & involvement of the target group & beneficiaries were deemed important keeping in view of its effectiveness. This concerted effort to strengthen every child's right to be safe from sexual violence has been recognized many bodies.
The project also aims at spreading the message of Personal Safety of children all over. This has resulted in capacity building of students of Social Work in responding to issues of CSA, both in preventive as well as measures of intervention through a four day workshop. In working towards ensuring the "personal safety" of children, the team is constantly developing & evolving modules and resources such as a/v materials appropriate to the given population. The team also is actively keeping themselves updated on developments while resourcing materials and strategies for the project objective.
A core team for the project ensures the sustainability & feasibility of the project. This project continually strives to promote a safer environment for children by implementing effective & appropriate strategies & programmes with varied target groups. The project also provides opportunities for exploring studies & research in the area. Activities related also provide opportunities for exploring studies & research in the area. Activities related to "Creating a protective environment for children against child sexual abuse" are undertaken with the support of UNICEF, Chennai. This project has been implemented in one Panchayat as a Pilot Project.
Safalam Sayahnam- Programme for the Elderly
The department in association with Smile India- Pakalveedu organization, every year organizes a programme for the elderly in the college (since 2009). A good number of elderly people assemble in the college and spend a day with different activities.
Mary Richmond Series:
The department has started a series in commemoration of Ms. Richmond known as the mother of Social Work Profession. The programme started in 2018 and inaugurated by Prof.Dr. Sekhar (NIMHANS). Prof. R R Singh (Former Director, TISS Mumbai), Prof. Ghandidoss (Former HoD, Dept. Of Social Work, Bangalore, University) were the resource persons in the successive years.
Students' Durbar
This is a programme started in 2017 for providing a platform for students to express their views in different social issues. Two student representatives from each department joins the programme.  The programme is conducted once in three months.
The programme has been expanded to national level by involving Social Work students from different states.
Thejaswitha
This is an online quiz competition for Social Work Students started in 2020. Event is a national level one and offers attractive prizes.
Certificate Programmes
The department offers Diploma certificate programmes in 'Child Rights and Protection Systems', a 120 hours programme.
MoUs
Department has MoUs with many organizations and academic institutions within India and abroad thus facilitating academic collaborations and partnership programmes.
International collaborations
Department has international academic collaborations with reputed institutions. This helps students to get international experience in their academic/field work programmes. There are many programmes conducted in association with institutions abroad. Presently department has international collaborations with Kadamabari Memorial College, Nepal and University of Johannesburg, South Africa.
Extension Activities through BCM OJASS
BCM OJASS (Outreach Joint Action to Strengthen Society)
Social Work as a profession entails pro-active attitude in addressing the social concerns. Therefore, the department under the aegis of the college council has initiated registering BCM OJASS for undertaking the welfare programme of the college and extension activities of the department.
The department of Social Work actively pursues extension programmes and has partnered with various NGOs for such activities. Sensitization & awareness sessions have been conducted on aspects such as Domestic violence, Alzheimer's, Public health in association with organizations such as World Vision, Alzheimer's & Related Disorders Society India (ARDSI), the District Medical Office, Kottayam. A programme for the elderly – 'Safalam Sayahnam' is organized annually for the elderly in association with Smile India, Pakalveedu.
Extension programmes have focused on the community in Kottayam & its objective has been to improve the health status & awareness of this target group. Feedback has been suggestive of the effectiveness of such outreach programmes.
Collaborations
The Department of Social Work has actively collaborated with various organizations such as local bodies – Panchayats & Municipalities, Governmental Organizations, Non-Governmental Organizations, Hospitals and Schools which comprise service sectors in fields of Health & Education.
Hence a pre-requisite for students undertaking Field placement is a memorandum of understanding such as that entered with Kudumbasree or mutually beneficial agreements formalized with partner agencies.
Such collaborations have resulted in students gaining excellent training, field placement, internship opportunities & job placements which in turn benefit the institution because of the progress & quality enhancement of its students. This in turn has created a demand for students of this college both for jobs and has helped continue collaborations established with agencies.
There are also Inter-Departmental collaborations with Departments such as Family & Community Sciences, Food Science & Quality Control, Computer Science and Sociology in connection with the student development activities & Paper presentations and other Department programmes.
Convocation
The college conducts passing out ceremony every year to mark the completion of course of respective batches. The programme is attended by the students and their parents. Certificate, prizes and awards are distributed during ceremony by eminent personalities in the field of social work education and practice.
Prizes and Awards
The Department also seeks to acknowledge and appreciate outstanding performance by the students and has instituted certain prizes and awards to recognize the same.
Best Outgoing Student – Certificate & cash award sponsored by Bishop Makil Foundation
Best Field Work Performance – Joseph Koopli & Son's Memorial Award
Most Conscientious Student – Mathew Attumalil Memorial Award
Best Dissertation Award – Fr. Philip Kootiyaniyil Memorial Award
Advisory Board
A team of eminent personalities related to the field of social work constitutes the department's advisory board. Their valuable ideas, suggestions and advice based on their many years of service and vast experience in the field find expression in the daily functioning of the department.
 M.S.W. Degree Program
(Mahatma Gandhi University Regulations PGCSS2019
from 2019-20 Academic Year)
The Master of Social Science in Social Work (MSW) Programme is a professional training programme that leads to the professional qualification of a Social Worker. The course work of the Programme aims to provide students with a solid conceptual framework and a theoretical foundation of social work practice. To develop social work knowledge and skills, and to help students cultivate a positive identification with social work values and the ethics of the social work profession are the aims of this Programme. In addition to the academic content, students are required to undertake supervised practice in different social service agencies/communities. This programme equips students with advanced training in knowledge and skills to reflect and resolve conflicts within themselves and to help disadvantaged groups. Through these academic and training engagements, students are prepared for a career in professional social work.
The curriculum of the Master of Social Work (MSW) Programme is designed to meet the requirements as per the programme's objectives, which is to prepare the students to build a career in Social Work Profession and Development sector. The professional education in social work equip the students to confidently engage in the practices of counselling, group work, and community work, research, policy formulation and analysis, advocacy and social & political interventions. There are a number of promising career opportunities open for these graduates in the areas like: Rural and Urban Community Development, Hospital Social Work, Psychiatric Social Work, Industrial Counselling, Family Counselling, Child Welfare, Administration of NGOs, Corporate Social Responsibility, Human Rights, Environment and Disaster Management, Project Preparation & Evaluation and Field level Research Projects.
The MSW programme is organized into four semesters with elective (specialization) courses offered as three specialization groups in:
Community Development (CD)
Family and Child Welfare (FCW)
Medical and Psychiatric Social Work (MPSW)
There are TEN courses in the first and second semesters along with field practicum. In the third semester there are two core as well as 3 elective courses each in each specialization group along with field practicum. In the fourth semester there are two core courses and two elective courses, field practicum apart from project/dissertation. Field Practicum (field education) is an integral part of the training in social work education with the objective of helping the students to develop the skills, attitudes and values and personality characteristics essential for a professional social worker. The students are to be placed in local self government institutions, welfare agencies, development organizations, community based organizations of children, youth, women and elderly, hospitals etc. for field work training. The training equips the students to get hands on training in different areas as well as according to their specialization.
To facilitate the learners to develop the foundations of social work practice by providing the theoretical input on the philosophy, values, methods, fields and approaches of human service profession and human resource management.
To sensitize the learners about the contemporary socio-economic and cultural realties through field based learning and proficiency in helping skills and effective intervention strategies.
To develop a professional approach in addressing human societal needs and become effective and efficient change agents in the social milieu.
To develop an insight into one's professional self and purposive use of the same in professional practice through integral transformative practices.
To sharpen the learners' skills in conceptualization, scientific assessment, analysis & interpretation and planning & intervention.
The major learning outcomes of the graduating students are the competence to demonstrate the professional knowledge of interdisciplinary foundations and theories, methods and practice models and skills in the practice with individuals, families, and groups, or leadership in the practice, the ability in analyzing, evaluating public policies and programmes and drafting of model policies leading to research integrated practices.
Eligibility for Admissions
Candidates for admission to the first semester of the MSW programme shall be required to have passed any Degree Examination with a minimum of 45% marks of Mahatma Gandhi University as specified or any other examination of any recognized University or authority accepted by the Academic Council of Mahatma Gandhi University as equivalent thereto.
Medium of Instruction and Assessment
The medium of instruction and assessment of MSW Programme is English
 Faculty under which the Degree is awarded
Students shall be admitted to and awarded degree of MSW under the Faculty of Social Sciences.
Specializations offered
The MSW programme is organized into four semesters with elective (specialization) courses offered in three groups of Specializations:
Community Development (CD)
Family and Child Welfare (FCW)
Medical and Psychiatric Social Work (MPSW)
Note on compliance with the UGC Minimum Standards for the conduct and award of Post Graduate Degrees
The MSW Programme comply with UGC Minimum Standards for the conduct and award of Post Graduate Degrees
MSW PROGRAM STRUCTURE
Course Code
Title of the Course
Type of the Course
Hours per week
Credits
FIRST SEMESTER
SW010101
Social Sciences for Social Work
Core
3
3
SW010102
Human Growth and Development
Core
3
3
SW010103
History, Philosophy and Fields of Social Work
Core
3
3
SW010104
Social Work Practice with Individuals
Core
 3
3
SW010105
Social Work Practice with Communities
Core
3
3
SW010106
Field Practicum
Core
12
6
Semester I Total
 
21
SECOND SEMESTER
SW010201
Introduction to Abnormal and Social Psychology
Core
3
3
SW010202
Counselling and Psychotherapy
Core
3
3
SW010203
Professional Skills for Social Workers
Core
3
3
SW010204
Social Work practice with Groups
Core
 3
3
SW010205
Social Work Research and Statistics
Core
3
3
SW010206
Field Practicum 2
Core
12
6
Semester II Total
 
21
THIRD SEMESTER
SW010301
Planning and Implementation of Development Projects
Core
3
3
SW010302
Administration of Human Service Organizations
Core
3
3
SW010303
Field Practicum 3
Core
12
6
Specialization Courses
Group 1: Community Development (CD)
SW800301
Rural & Urban Community Development
Elective
3
3
SW800302
Environment and Disaster Management
Elective
 3
3
SW800303
Community Health for Development Practice
Elective
3
3
Group 2: Family and Child Welfare (FCW)
SW810301
Social Work Practice With Families
Elective
3
3
SW810302
Policies and Programmes for Children and Youth
Elective
3
3
SW810303
Population dynamics and Reproductive and Child Health
Elective
3
3
Group 3: Medical and Psychiatric Social Work (MPSW)
SW820301
Clinical Assessment and Diagnosis of Psychiatric Disorders
Elective
3
3
SW820302
Social Work in the Field of Health
Elective
3
3
SW820303
Health Care Administration and Community Health
Elective
3
3
 
Semester III Total
 
21
FOURTH SEMESTER
SW010401
Social Legislation and Human  Rights
Core
3
3
SW010402
Gerentological Social Work
Core
3
3
SW010403
Field Practicum 4
Core
12
6
SW010404
Dissertation
Core
 3
3
SW010405
Internship ( After the completion of  fourth semester examination)
Core
10
5
Specialization Courses
Group 1: Community Development (CD)
SW800401
Human Resource Management for Development Practice
Elective
3
3
SW800402
Economic Development: Theory and Practice
Elective
3
3
Group 2: Family and Child Welfare (FCW)
SW810401
Therapeutic Interventions in the field of Family and Child Welfare
Elective
3
3
SW810402
Social Work in Education
Elective
3
3
Group 3: Medical and Psychiatric Social Work (MPSW)
SW820401
Social Work Interventions in the field of  mental health
Elective
3
3
SW820402
School Mental Health and Social Work Practice
Elective
3
3
 
Comprehensive Viva Voce
1
 
Semester IV Total
27
 
MSW Total
 
 
90