Catholic Students Movement
Catholic Students Movement (C.S.M.) aims at the Catholic value formation of the Catholic students and the eradiation of the same to the society. Arranging College morning prayer service, facilitating Holy Mass on first Friday of every month, Rosary Service in October and organization of annual retreat are regular activities of C.S.M. Every Catholic student of the college is expected to be a member of C.S.M.
Catholic Student Movement (CSM) 2020-2021
Virtual Fellowship Gathering by CSM students of BCM College in association with Jesus Youth, Kottayam
Praise God
  *"Where two or three are gathered in my name, there am I among them"*
     Mathew 18:20
On 25-7-2020, the first *Virtual Fellowship Gathering* of BCM College, CSM was conducted from 3pm – 4pm.
It was really a graceful time for all who took part in the Virtual Gathering. The gathering became more fruitful by the presence of    Mr. Ashish Jose (Jesus Youth Pala zone, ex-fultimer) who was the resource person. He shared his testimony and how he considered Jesus as his best friend. The session was an eye opener for all the students. After the session there was an interactive session.
It has been decided to conduct Virtual Fellowship Gathering once in 2 Weeks.
The program was planned by Ms. Anu Luke (II DC FACS), Ms. Alfi Thomas (II DC FACS), Ms. Sona Jimmy(II BCOM) and Ms. Besly Rachel Shaji (II DC English).
The faculty members who attended the same were, Ms. Emy Mathew (Zoology), Ms. Sharon Stephen (Chemistry) and Mr. Bijo Thomas-(MSW).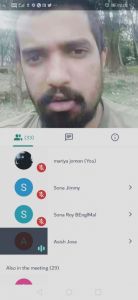 On 8-8-2020 the second *Virtual Fellowship Gathering PUBG (Picked Up By God) was conducted from 6pm – 7pm.
Ms. Mary Neethu, Professional councilor who is working for the innovation of Transgender community in Kerala, an active Jesus Youth Member and All Kerala resource person was the attraction of the gathering. She is much active in the social services along with her involvement in the spiritual service of the society. She was awarded global best women achiever award 2020 (for her activities in the society).
The program was planned by Ms. Jeeshma Joy (III DC FACS), Ms. Alfi Thomas (IIDC FACS), Ms. Bavya (II BCom), Ms. Bavya (III DC Maths), Ms. Josna (II DC Economics), Ms. Anjana (III DC Botany).
Ms. Reeja Reji from All Kerala Campus Coordinating Team also attended the online gathering.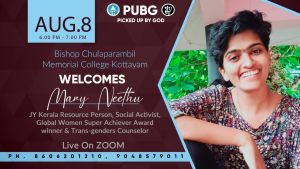 Catholic Student Movement (CSM) 2019-2020
Catholic Student Movement of BCM College aim for the spiritual and value based development of the students. Faculty members and students from various departments serve as office bearers.
The regular Prayer Meetings conducted on every Wednesday are the heart of CSM in our college. This gathering of students and faculty includes personal sharing, group activities, discussuions etc.
Samadhana Sandhesha Yathra
CSM members of BCM college have given a warm welcome for the 'Samadhana Sandhesha Yathra' an initiative of KCYM, with a motto to spread the message of peace among youth and to empower them to act against the evils in the society. The rally was inaugurated by Rev Fr .Michael Vettikattu, Vicar General of Kottayam Archdiocese and lead by Mr. Cyriac Chazhikattu.

Orientation for first years
On 26th of June 2019 an introduction of CSM and CSM activities in college was given to the first year students during their orientation programme. The session was dealt by Dr. Annu Thomas, faculty coordinator of CSM and Sr. Elizabeth John, student representative of CSM. CSM volunteers made the session more interactive by playing a short film and action song.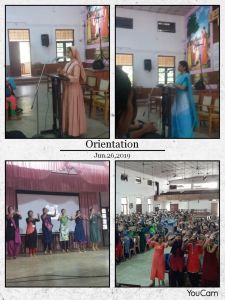 Feast of the Sacred Heart
The feast of the most sacred heart of the Jesus on June 28th was celebrated with the prayer ceremony lead by Rev Fr.Philmon Kalathra and followed by the blessing of the whole college, students and faculties.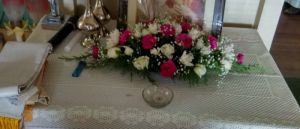 CSM family members have given a hearty welcome to the newcomers during the prayer meeting held on July 6th 2019 in Sr. Savio Hall of BCM College. "I am the light of the world" (John 8:12) following the gospel, CSM members lighted the candle and pledged to be an instrument of God and to pass the light of God to the fellow beings.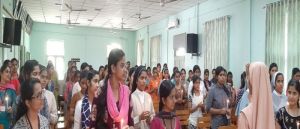 A two day retreat was conducted for the students on 2nd and 3rd August 2019. Two parallel sessions for Christians and non-Christians were conducted in Auditorium and in Sr. Savio Hall respectively. It was led by Redemptions Youth Ministries (RYM).
October, the month of holy rosary was celebrated by reciting rosary in college chapel for ten days. Each day rosary was lead by staff and students of different departments, made everyone to be blessed with graces of Mother Mary. A rosary making class was also taken by Sr. Joan SVM.
CSM conducted New Year prayer ceremony on January 1st 2020.New year message was given by Dr.Annu Thomas, Vice Principal and CSM Coordinator. Jesus youth members played a skit that enlightened everyone to hold the hand of God throughout the year in all circumstances. Prayer ceremony was more blessed by Holy Mass offered by Rev.Fr. Philmon Kalathra.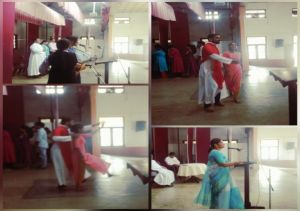 On 22nd January 2020, Jesus Youth full timer of Kottayam zone Mr.Thejus addressed the prayer meeting. He shared his life experiences with God and about the power of gospel.