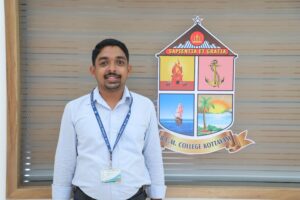 Keeping with the Department's mission of "imparting wholesome Commerce education to young women from all strata of society and empower them to face the challenges of business environment with ethical values", the Department continues to focus all its activities towards wholesome personality development of students by providing adequate training, organizing debates, extempore challenges, inter departmental and inter collegiate competitions, workshops, seminars etc. Over the past 38 years the Department has been striving hard to keep pace with the changing economic and business scenario around the globe. The Commerce Association continues to provide opportunities for students to develop creativity, inter personal skills, communication skills, leadership qualities and team spirit. We also provide opportunity for industrial visits and motivational visit to the leading academic institutes within and outside the state.The Department of Commerce of Bishop Chulaparambil Memorial College has striven tirelessly in pursuit of excellence in commerce education.
The association is aimed to transform students into national assets by imbibing business skills, integrity, ethical uprightness and a real holistic development. Department of Commerce is dedicated to excellence in performance and committed to provide quality education, opportunities and services to meet the needs of business and also contribute for the society's well-being, nation's development and to meet global competencies. Therefore the association has set up its objectives to provide students an in-depth understanding of the dynamic business environment, make every student an agent of change by making them socially responsible and facilitate learning of commerce education by incorporating the current trends and to impart skills to enhance the employability.
We welcome you all to the wonderful world of Commerce!
With Warm Greetings,
Dr. Jipin V Jimmy
Department of Commerce started functioning with the introduction of B. Com Finance & Taxation under the leadership and guidance of Prof. K J Joy in 1981. B. Com Computer Application, M. Com Finance and M. Com Taxation courses commenced in Self Financing stream from 2013. Post Graduate courses underwent changes and became M.Com Finance & Taxation and M.Com Marketing & International Business. Department currently has 3 permanent faculty members and 2 guest lecturers with a total student strength of 189 in Aided stream. Self Financing stream has 1 Associate Professor on contract and 7 Assistant Professors on contract with a total student strength of 180. In addition, Department offers Certificate courses on Tally during odd semesters and SPSS in even semesters. The department has a well equipped computer lab to provide practical training on Tally, SPSS, IT for Business etc. Remedial classes through Tutorial sessions and Mentoring are the highlights of the department.
Major events from the Department
• Department conducts inter collegiate South Indian Commerce Fest- Prayaan every year. 600+ participants from 150+ colleges participate in the program.
• Dr. Sr. Karuna Lecture Series on contemporary issues of Indian Economy. Speakers like Shri. KM Mani, MB Rajesh Ex MP, P Rajeev Ex. MP, Nisha Purushothaman etc were the eminent speakers.
• Union Budget analysis from experts
• Seminars by entrepreneurs, leading academicians, industrialists etc
• Workshop on IT return filing, Excel tools, GST etc.
• Orientation programme for first year students
• Soft skill training programs
• Zero credit courses
• Career guidance sessions
• Group Discussions/ Debates on current relevant topics every week
• Various festival celebrations and days observations like Onam, Christmas, Teachers day, World Cancer day, Safer internet day etc.
• Green initiatives like 'Go green campaign, paper pen making etc.
• Various clubs like entrepreneurship club, research club, quiz club, film critics club and capital market club.
• Swap shop to promote the entrepreneurial skills of the students
• Swayam – Recurring deposit scheme to improve the savings habit of students
• Research Guidance on paper presentation and publication
• Publication of Manuscript magazines
• Alumni Meet
• Inter departmental competitions like commerce week, poster designing competition, debate, RJ hunt, skills & thrills etc.
• Intra departmental competitions like best entrepreneurial idea competition, commercial charades, case study competitions, extempore, naptol advertisement competitions, debate competitions etc
• Charitable activities like an endeavour to reach the poor, charity bank, dress bank, food bank, stationary kit, spot collection, orphanage visit, blood donation camp etc
• Social commitments like banking awareness campaign, financial literacy campaign with SHGs, Go green campaign, Flood relief camp, hair donation, contribution to CMDRFetc.
• Commerce Live Lab to give practical training on Commerce
• Study tours having 4-5 days duration
• Motivational visit to IIM Calicut
• Port Visit to Kochin Port
• Industrial visit to Eastern, Kitex etc
• Exhibitions
• Inter Departmental Competitions
• Academic and Non academic extension programmes
• 'Operation Vijnjana' to improve the reading communication skills of students
Commerce association aims the overall improvement of a student. It gives a opportunity to students to grow and excel. We are proud of our alumnae who are working in India and abroad as well as who are studying in the leading universities and institutes in and outside India.