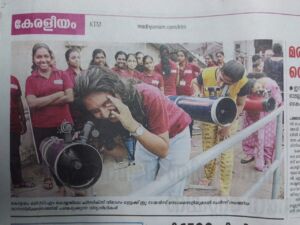 NIGHT SKY WATCHING
Department of Physics in association with Breakthrough Science Society organised a night Sky Watching Programme on 23rd January 2023 at College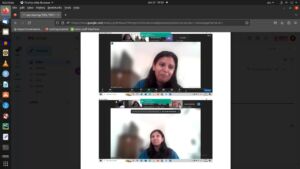 Collaborative Online International Learning [COIL]- Mechanisms of Toys
The COIL Project is conducted by the Department of Physics in association with Early Childhood Education Department ,Sinclair community college, USA.
Faculty Involved:
Sinclair College (USA) Faculty: Dr. Swapna Purandare, Early Childhood Education
Bishop Chulaparambil Memorial College (India) Faculty: Dr. Elizabeth V John, Department of Physics
Duration : 5 Weeks Programme from 22.09.2022 with 2 online meeting through ZOOM platform
No. of Students involved:
Sinclair College: 14; BCM College: 30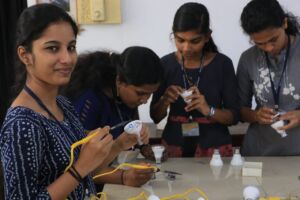 SAJEEV PRAYOGSHALA- LED BULB ASSEMBLING 
LED bulbs are energy efficient and environment friendly lighting source compared to conventional lighting sources. To impart this knowledge and to spread the usage of LED bulbs department of physics has initiated a live lab on LED bulb assembling in the academic year 2022-23.
Objective of the Program
To provide hands-on learning experiences and thus to encourage skill-based learning.
To develop the entrepreneurial, technical skills of the students.

Practice

Initially students were given training in LED bulb assembling by the lab mechanic, Mr. Tom Simon and later the students were divided into a group of 5 students. Each of these groups prepared 5 bulbs. The bulbs were then sold through Azhchavattam, Amenity centre.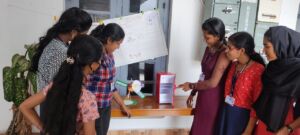 KNOWLEDGE CORNER
 knowledge corner is the best practice of the Department of Physics for making others aware about important innovations in the field of Physics. Every week Stills or models are exhibited by students in the knowledge corner.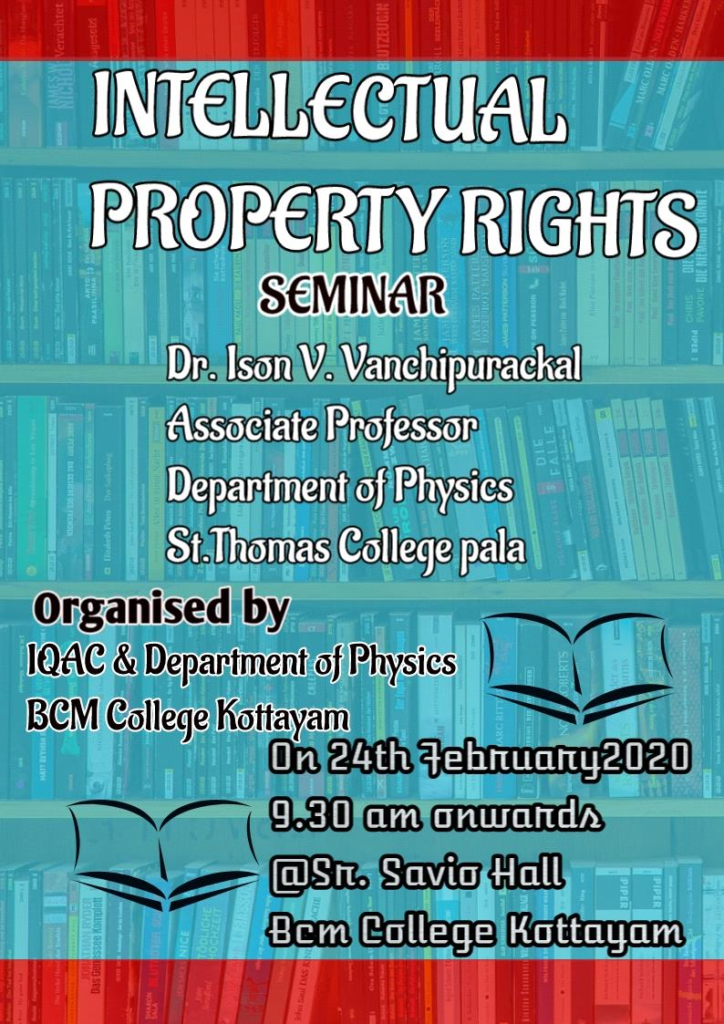 INTELLECTUAL PROPERTY RIGHTS
Resource Person : DR. Ison V Vanchipurackal ( Ass.Professor St.Thomas College,Pala)
Date : Feb 24 2020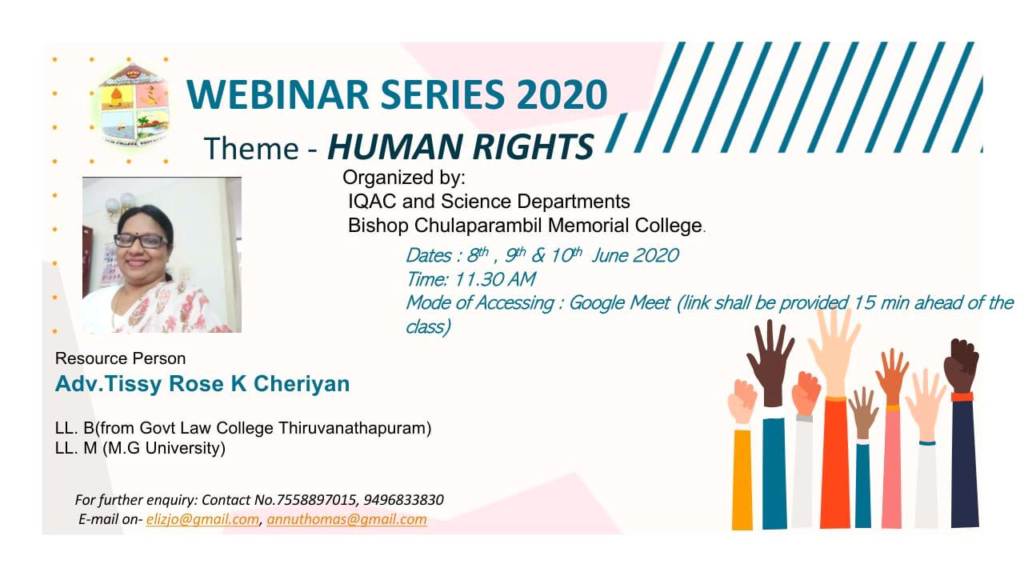 HUMAN RIGHTS TALK
Resource Person : Tissy Rose K Cherian
Date : June 10 2020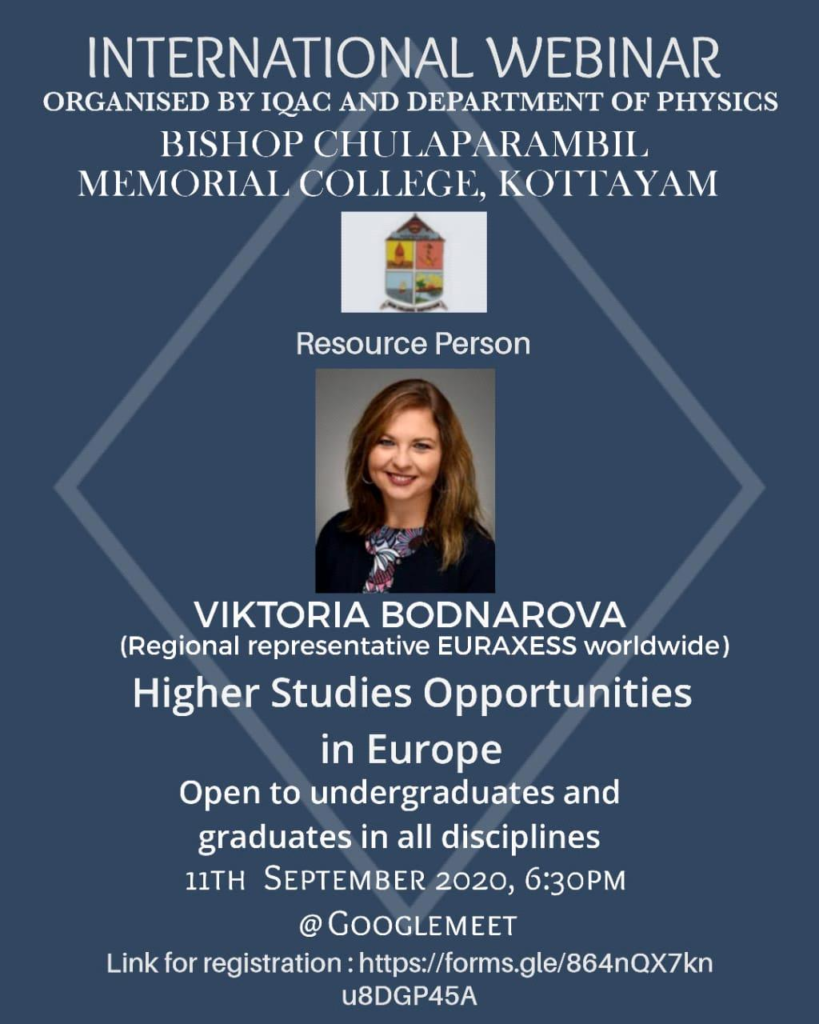 HIGHER STUDIES OPPORTUNITIES IN  PHYSICS
Resource person : Viktoria Bodnarova (Regional Representative EURAXESS Worldwide)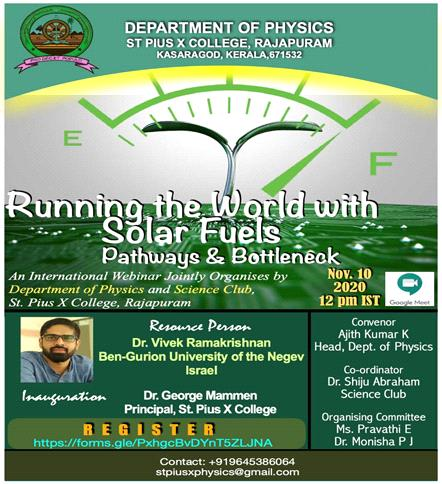 RUNNING THE WORLD WITH SOLAR FUELS
Resource person : Dr.Vivek Ramakrishnan (Ben – Gurion University of Negev Israel)
Date: Nov 10 2020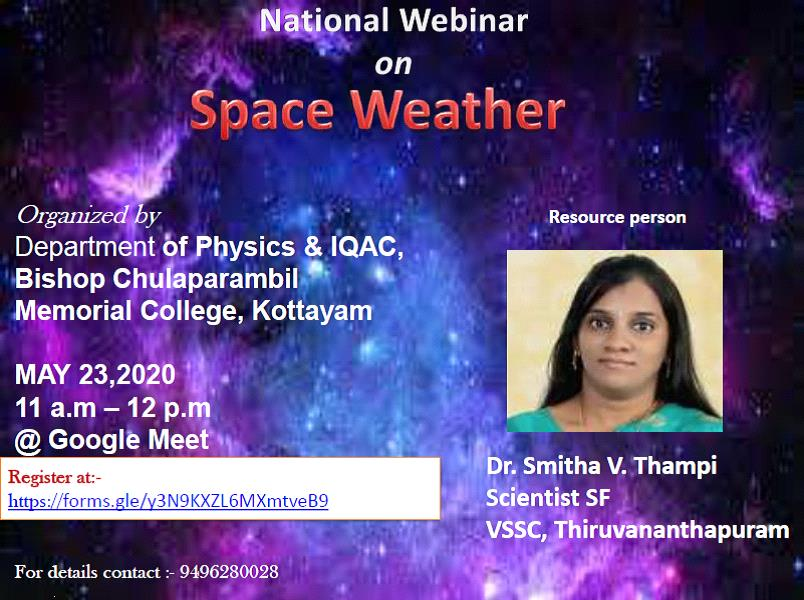 WEBINAR ON SPACE WEATHER
Resource person : Dr.Smitha V Thampi(Scientist Space SF VSSC Thiruvanthapuram)
Date : May 23 2020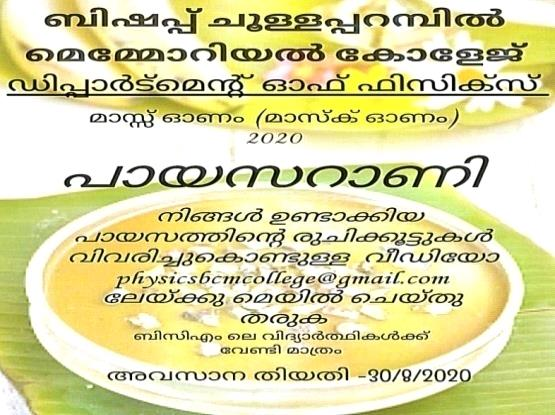 ONAM CELEBRATION
Date : Aug 27 2020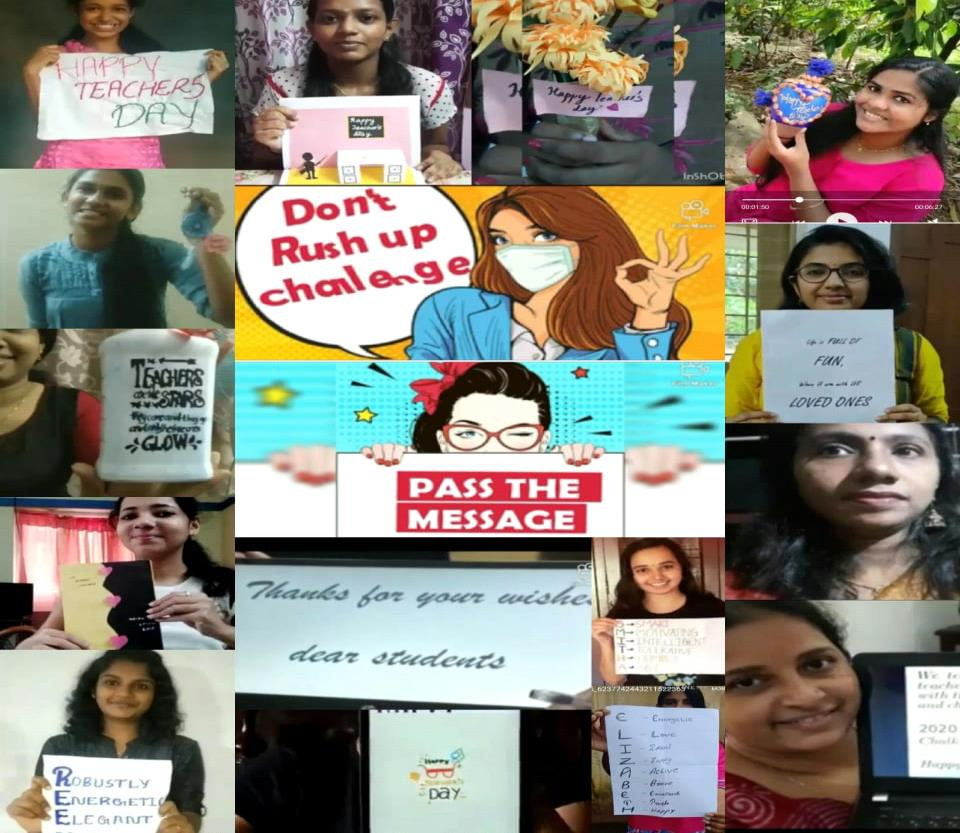 TEACHERS DAY
Date : Sept 5 2020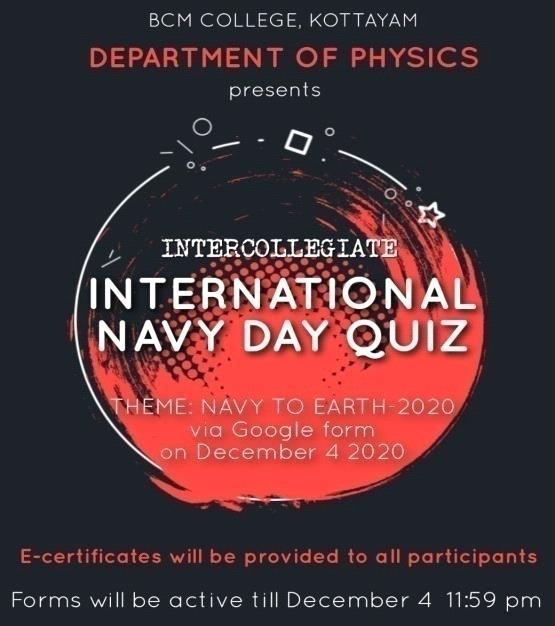 NAVY DAY
Date : Dec 04 2020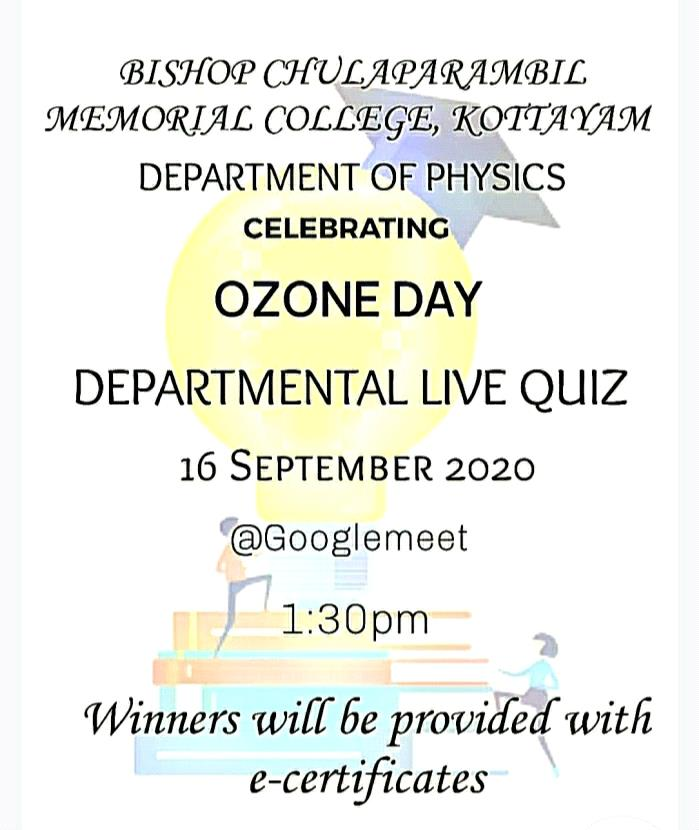 OZONE DAY
Date: Sept16 2020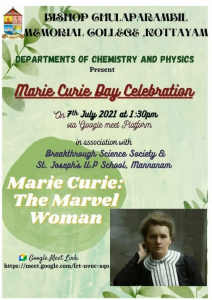 MARIE CURIE : THE MARVEL WOMAN
Date : 7 July 2021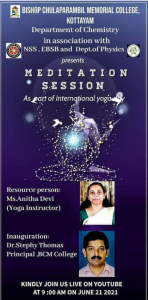 MEDITATION SESSION ON INTERNATIONAL YOGA DAY
Resource Person : Ms. Anitha Devi ( Yoga Instructor)
Date: 21 June 2021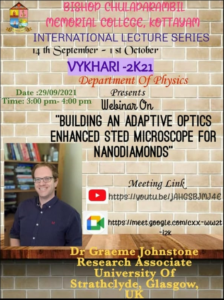 VYKHARI 2K21
BULDING AN ADAPTIVE OPTICS ENHANCED STED MICROSCOPE FOR NANODIAMONDS
Resource  Person : Dr. Graeme Johnstone ( Research Associate University of Strathclyde , Glasgow , U.K
Date: 29 Sept 2021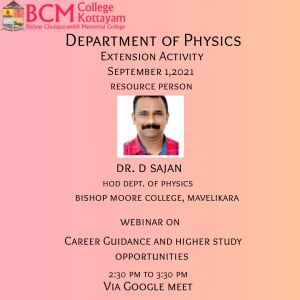 CAREER GUIDANCE AND HIGHER OPPORTUNITIES IN PHYSICS
Resource Person : Dr. D Sajan ( Associate Professor Dept. Physics Bishop Moore College , Mavelikkara)
Date : 15 Sept 2021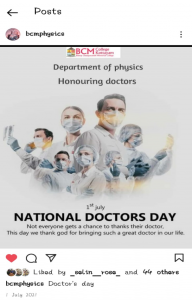 NATIONAL DOCTORS DAY
Date : 1 July 2021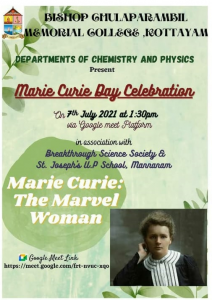 MARIE CURIE DAY
Date : 7 July 2021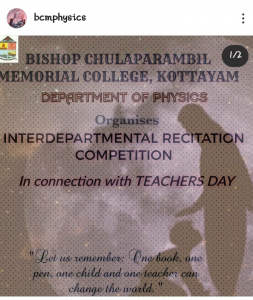 TEACHERS DAY
Date : 5 Sept 2021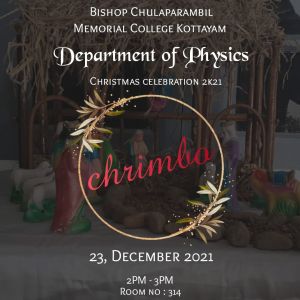 CHRISTMAS CELEBRATION
Date : 20 Dec 2021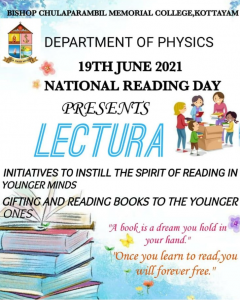 NATIONAL READING DAY

Date : 19 June 2021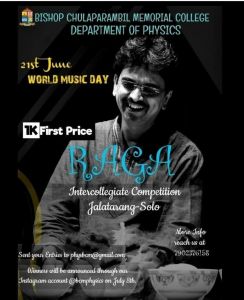 WORLD MUSIC DAY

Date : 21 June 2021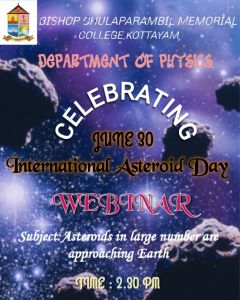 WORLD ASTEROID  DAY

Date : 30 June 2021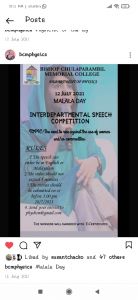 MALALA   DAY

Date : 12 July 2021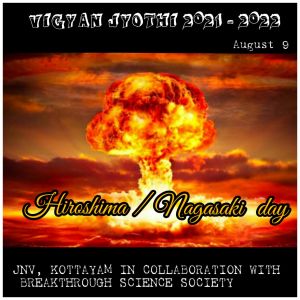 HIROSHIMA AND NAGASAKI  DAY

Date : 19 Aug 2021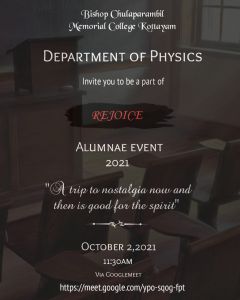 ALUMNI DAY
Date : 2 Oct 2021
The Science Academies' Refresher Course on Quantum Mechanics for Nuclear and Particle Physics at BCM College, Kottayam, was organized during the period 1st to 15th December, 2018.Prof. M. V. N. Murthy, The Institute of Mathematical Sciences, Chennai, was the Course Director and Dr. Elizabeth V. John, BCM College was the Course Co-ordinator.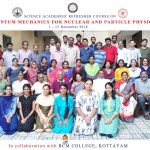 An International Seminar on Renewable Energy Utilization was organised on 10th July, 2018. Dr. Sreekala K S, Assistant Professor, Govt. College, Kottayam inaugurated the seminar and Principal Mrs. Josephina Simon presided over the meeting.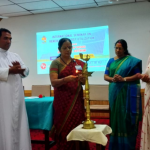 TALK ON STARS, CONSTELLATIONS AND ZODIACAL CONSTELLATIONS
Our department organised an interactive session with the scholars of Breakthrough Science Society on 11th January 2019. Prof. P. Thankachan, Secretary, Breakthrough Science Society conducted a class on astrophysics and various space activities. The talk was helpful to segregate the superstitions from the concepts of birth start, birth time, birth stones, etc. He was assisted by other members of the Society. All the students and teachers actively took part in the event.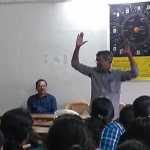 INTERCOLLEGIATE PHYSICS FEST
The curtain raised for Physics fest SAGITTARIA 2K18 on August 4, 2K18. Students from 19 colleges participated in the fest. There were many events, for the all-round development of students for prize worth Rs. 28,200/-. The inaugural function was presided over by Association President, Ms. Anjali G. and inaugurated by the Principal Mrs. Josephina Simon. Fr. Philmon Kalathara, Bursar and Secretary to Collegiate Education of Archeparchy of Kottayam and Ms. Athira Maria Johnson, Association Teacher in-charge, felicitated the program.