Visit of Japanese Journalist Team
On 21st February 2022, Takeshi Narabe, a senior correspondent of Japanese daily, The Asahi Shimbun visited the department of History and interacted with the faculty about "The History of Women Empowerment in Kerala during the Colonial and Post Colonial Period". They delivered a lecture to the students regarding "Cultural Heritage and Innovative Mind of Japan"
Paying Homage to General Bipin Rawat and Military Personnel
The History Association conducted a meeting on 10th December 2021 to pay homage to General Bipin Rawat, Chief of Defence Staff and other  military personals who lost their lives in helicopter crash.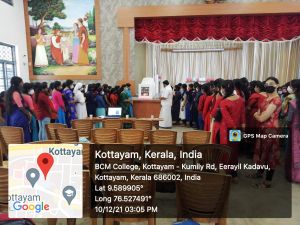 Commemoration of 100th Anniversary Of Malabar Rebellion & Wagon Tragedy
As part of the Centenary of  Malabar Rebellion and Wagon Tragedy, the Department of History conducted a webinar on the topic "A Century since Malabar Rebellion: A Historical Analysis". Eminent historian Dr. Sivadasan P., Professor, Department of History, University of Calicut delivered the lecture. The programme was conducted on 20th November, 2021.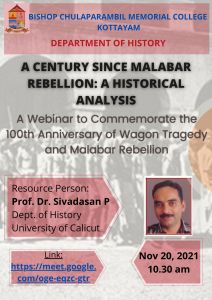 Gandhi @150 – Photo Exhibition
As part of 150th birth anniversary of Mahatma Gandhi, the Department  conducted a rare photo exhibition on the life moments of Mahatma Gandhi. Around 1500 pictures of Gandhi,  reflecting his life events were displayed. It was inaugurated by our  principal, Dr.Teena Anna Thomas.